20/07/16 10:45
CULTURAL NABE - Origami Night

Exploring the the relationship between Japanese Paper - Washi -, Origami and the Japanese culture in the Academic English 3 course. Undergraduates from the Industrial Design specialisation in Kyushu University - School of Design, were invited to Cultural Nabe to share their thoughts with International students; and at the same time impart the skills of making Origami flowers and interesting Origami hair accessories. This activity promoted cross-cultural interaction and created opportunities for English language application for the Japanese undergraduates.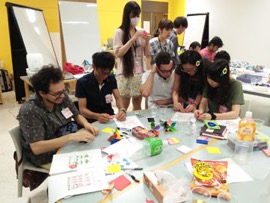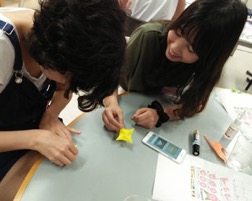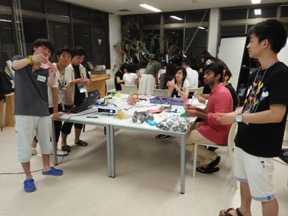 28/02/16 10:40
Sustainable Lamp Design Workshop

Focusing on propogating the awareness and possibilities of harnessing sustainable energy and using sustainable materials that can be recycled, a 3 x 1/2 day Sustainable Lamp Design Workshop was conducted between 19-26 Feb in Bukit Merah Secondary School (Singapore). In this workshop, students were first introduced to the issues related to design, environment and sustainability. Then after, they were provided with opportunities to experience and immerse in the designing of sustainable light prototypes using design thinking approach through hands-on activities. Using KIRIGAMI techniques, students experience divergent exploration of ideas through experimentation and evaluation process by the cutting and manipulating paper cards in different shapes and forms to converge on the final proposed solution.